Sarah Korpi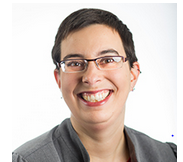 Ph.D., German Literature, UW-Madison
I grew up in northern Minnesota near the shores of Lake Superior and the Boundary Waters. Some days I credit living near the end of I-35 for my unique perspective on Geography. In my free time, you will find me playing with my dogs, fixing my car, wandering the woods, or paddling my way through the BWCA.
I took a wanderer's approach to my undergraduate education, which resulted in double majors in German Studies and American Indian Studies from the University of Minnesota in Duluth, as well as some great work experience in nursing and memory care. At the University of Wisconsin-Madison, I focused on Medieval German Literature at the master's level and modern German literature and Second Language Acquisition at the doctoral level.
I like to see the world through new perspectives, and studying languages naturally gives me a window into a new worldview. I am also very interested in identity construction, and how language and culture interact as individuals develop and redevelop their own identities.
I am a strong proponent of education, and I believe that access to high quality education is vital for learners in their communities. I especially appreciate the access that distance education can provide to learners, regardless of their location or situation.