29th Annual Conference: Celebrating Distance Education
October 18-20, 2021
Attend this virtual event from anywhere in the world!
Generously hosted by the University of Arizona Global Campus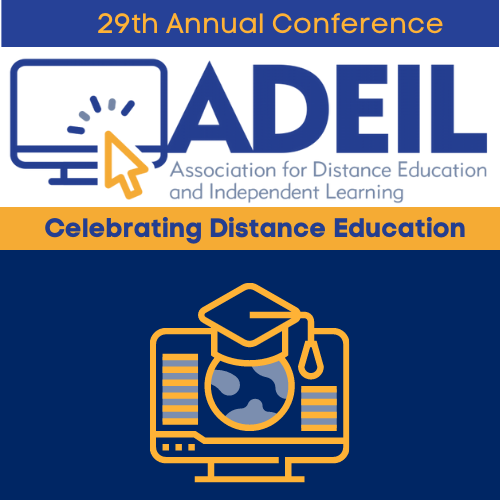 The Full Conference Schedule is now available!
Schedule at a Glance – all times Eastern Standard Time
Asynchronous
ePosters
Course Showcase
Monday, October 18, 2021
Keynote Speech 2 PM
Roundtable Discussion 3:15 PM
Networking Event 4:15 PM
Tuesday, October 19, 2021
Presentations 10AM-2:45 PM
Featured Panel 3 PM
Wednesday, October 20, 2021
ADEIL Business Meeting 11 AM
Presentations 12-1:45 PM
Roundtable Discussions 2 PM
Closing Session 3 PM

Each year, ADEIL meets to explore independent learning and distance education. Conference attendees leave the conference recharged with new perspectives, innovative ideas, and expanded professional networks.
ADEIL's work and mission
ADEIL is a distance education and independent learning association with a twofold purpose: professional development opportunities as well as opportunities for collegiality and interaction. ADEIL's distinguishing characteristics are its emphases on both independent learning and cohort-based distance education, and interaction among members.

Why attend:
o Attend the virtual conference wherever you are located
o Grow your professional network
o Share energy with like-minded individuals
o Become inspired
o Expand your knowledge and find solutions to problems
o Invest in yourself

Call for Presentation Proposals and ePosters
Excellence in Support Service Award 2021
We're making this year's conference affordable. Attend the 2021 Conference for only $21!
ADEIL membership for one year is included with your conference registration.
Want to register your entire department or institution for a lower rate? Need help affording the conference registration? Email conference chair Rich Freese: jrfreese@wisc.edu
Check out our featured speakers!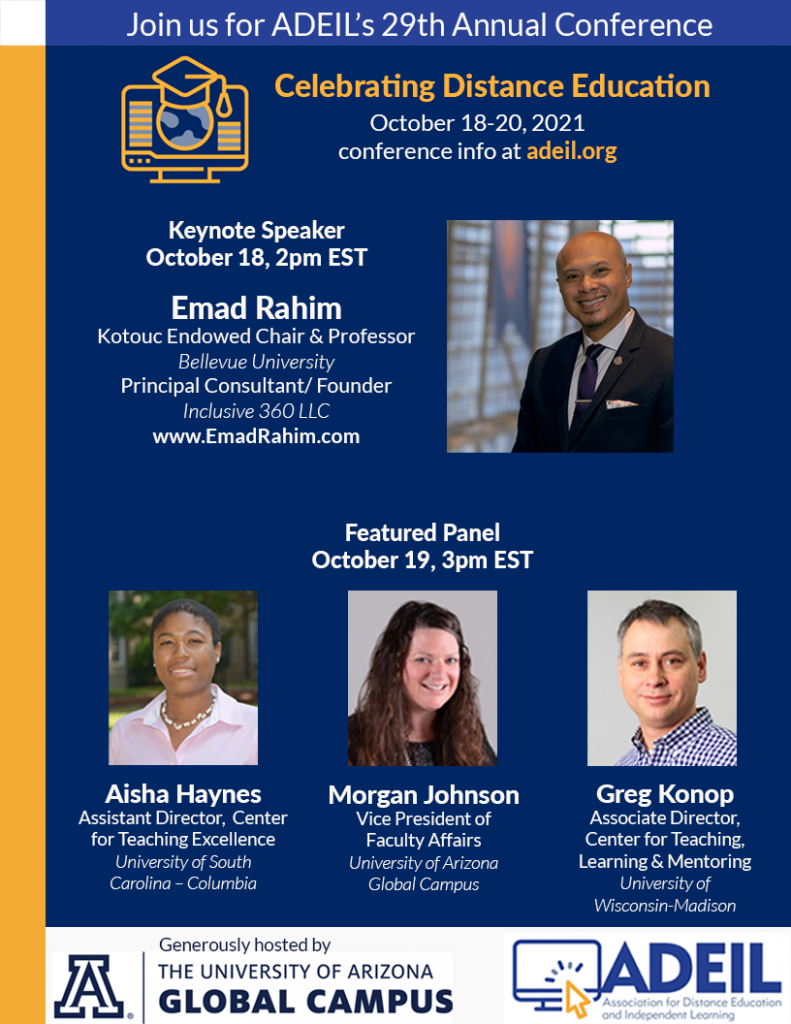 Interested in Past Conferences? Check out our conference history page.