ADEIL 2020 Concurrent Session Descriptions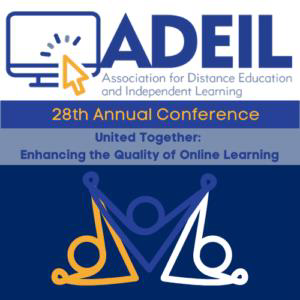 Concurrent Session I

1A: HyFlex Course Delivery: A Practical Guide to Keep Teaching During COVID Crisis and Beyond
COVID-19 pandemic created an unprecedented challenge for higher education. Institutions that chose to re-open their campuses had to re-imagine traditional in-class instruction and explore a variety of alternative course delivery models to keep students, faculty and staff safe. Among these alternatives is the Hybrid-Flexible (HyFlex) model for course delivery proposed by Brian Beatty, in which faculty teach a class in multiple modalities simultaneously: face-to-face, online synchronous, and online asynchronous. While this model provides students with the flexibility in how they attend class and interact with the faculty member and their classmates, faculty must be able to seamlessly manage all three formats. The model appears to be particularly well-suited to responding to COVID pandemic challenges: reduced seat capacity in the classrooms, students needing alternative delivery of their courses because of COVID or other health related reasons, and a possibility of switching to remote teaching in the middle of a semester. In early summer 2020, the presenters were working with faculty who were planning on operating three separate sections of their same course to accommodate students' needs: face-to-face, livestreaming, and asynchronous. Realizing the magnitude of such an undertaking and extra burden for faculty, the presenters researched various best practices in distance delivery models and personal teaching experiences to find a way to simplify design processes for faculty. As such, they created the HyFlex Course Delivery: A Practical Guide. The HyFlex Course Delivery: A Practical Guide resource is designed to provide faculty with recommendations on how to navigate this model in a simple and efficient manner while creating an equitable learning environment for everyone. Join us as we discuss the approach described in our HyFlex Course Delivery: A Practical Guide, and answer questions that you may have about it. Our presentation will include advice on course planning, examples of active learning activities for students in all three delivery modalities; suggestions for using additional technology; tips for engaging and connecting all students in the class; and emerging student feedback on their experience with HyFlex learning.

1B: Helping students achieve school-work-family life balance
School-work-life balance is all about effective time management. How can we most efficiently use our time to affect our goals with our career, our school work, and our family? We will present proven methods to help cope with the various stresses, including our newest one, the pandemic. The ultimate goal is to keep on top of our school work load, our family demands, and our career, while maintaining a healthy mind and body. A discussion will be tied to assessment, and how it affects student well-being. Plus, we want to delve into the entire balance scenario. Is it possible to achieve, or is it really a myth? While this is geared towards helping students, faculty will benefit, as they too have incredibly busy lives, with myriad demands upon their time. How can they best apply these ideas to helping them retain their focus on preparing students for later life?

The following questions will be answered in this session:
• How do we help students balance school-work-home issues?
• How can we do more for students?
• How does assessment factor in?
• Is balance a myth or is it possible?
1C: Online Engagement: Ensuring every student makes it to the finish line, post COVID
This session will focus on online engagement strategies that include using technology to enhance the online classroom experience, increasing student engagement and creating a quality student experience post COVID.
1D: Failure to Launch? – Strategies for Success in the First Week of Online Classes
The first week of an online class is crucial for establishing the landscape, the procedure and the tone. With a few clicks, after only a few hours of inhabiting their new course shell, students are going to draw conclusions about the scope of the academic content they'll be mastering, how their new class functions, and about their new teacher, too. That's a lot of pressure on instructors to shape the experience of that first week in such a way that provides context for the learning, presents it as easily accessible, and generally ensures that students feel well supported. Because on top of all of that, the first week of any online class represents a big transition. Maybe the class is a student's very first online class, or maybe it's their first after a bad experience with one. Or maybe the situation is such that the student has only just wrapped up the requirements for their previous class, and they're showing up on day one without much of a break since turning in a final assignment in some other class. Whatever the situation, it's clear that the first week of an online class is an important one. Fortunately, the online modality provides instructors with many opportunities to connect with their students – to welcome them to class, to reach out to them both as a newly founded community of learners as well as on a more personal level, and to smooth over pain points that might be a barrier to success.

Concurrent Session II
2A: Help me! Please Hear What I Do Not Say
The singular purpose of the Americans with Disabilities Act (ADA) passed in 1990 was to expand on the Civil Rights Act of 1968 that prohibited discriminatory acts against individuals based on race, color, religion, sex or national origin, but did not include prohibition of discriminatory acts against individuals with disabilities (History.com Editors, 2010). To this end, the aim of the ADA was to denounce discrimination "against individuals with disabilities in all areas of public life, including jobs, schools, transportation, and all public and private places that are open to the general public" (National Network: Information, Guidance, and Training on the Americans with Disabilities Act, n.d.). In light of this, most institutions of higher education offer accommodations for undergraduate students with disabilities, and most, if not all, have designated offices that specifically ensure undergraduate students with disabilities are provided the necessary tools needed for success. However, much of the assistance relegated for students with disabilities are noted at the undergraduate level and very little attention has been given to the number of graduate students who matriculate through programs or the attrition that results due to graduate students receiving significantly less support than at the undergraduate level. There is myriad research delineating the journey of undergraduate students with disabilities and the wealth of resources available to ensure the undergraduate student's success. However, research is dearth that articulates the challenges Graduate students with disabilities endure as a result of the stigmas surrounding students with disabilities (Pearson & Boskovich, 2019).
Higher Education's response to the provision of resources and support for students with disabilities is laudable. However, have we as academicians ensured we have done our due diligence to identify and recognize a student with an undisclosed disability? The purpose of this session will be to share my personal experiences of successful strategies leveraged to identify and support graduate students with undisclosed disabilities specifically students along the Autism spectrum. At the completion of the session, participants should be able to:
• Articulate the definition of differentiated learning
• Triage if a student has a disability without asking the student to disclose a known disability
• List at least three strategies to develop distance learning content that is easily amenable for students with disabilities specifically Autistic students
• List at least three strategies to hear what Graduates students do not say
2B: Incorporating OERs into a Course: Understanding the Course Redesign Process
This session will present an overview of the course redesign process and factors that faculty, course developers and instructional designers should consider when incorporating Open Educational Resources into a course. The presenter will address the unique challenges and opportunities that may exist when transitioning from vendor created textbooks to open education resources. This session will include a discussion on how open education resources provide an affordable learning initiative for colleges and universities to offer educational opportunities to students from families with a low-socioeconomic status. Participants will explore how colleges and universities are working with faculty to promote the use of open digital content by redefining or diminishing the traditional role of textbook adoptions; hence, promoting college affordability.
2C: Remote Language Instruction? Ja, wohl!
After decades of teaching language courses live and in person, last spring, COVID necessitated the conversion to remote instruction. Using the pedagogical approaches of correspondence language courses as a point of departure, in this presentation, the presenter will highlight methods of curriculum delivery, classroom management, and assessment that make remote language instruction engaging and effective. Topics will
include: universal design, forming effective student teams, maintaining ongoing student engagement, and facilitating large and small groups discussions. While the session will focus specifically on language instruction, tools and techniques featured will be easily transferable to courses in other content areas that require significant and sustained interaction among learners, such as courses that are conversation or group-work based.
2D: Artificial Intelligence in Education Systems – Ideas for Change
Artificial intelligence changes education systems in the U.S. and the world. Powerful computers, software, and cloud storage provide unprecedented capabilities to teachers, school administrators, and students. We will present the current technological developments in education and share our ideas on how to respond to the changes. Artificial intelligence (AI) has recently been launched into the spotlight with advances in the self-driving car (Tesla), deep-learning (Alpha Go), and recommendation systems (Netflix). As a replica of human intelligence, it shows incredible potential in various areas such as medicine, business, and the military. We can "teach" machines, and they can "learn" from their environments. The education sector is known for its enthusiasm for improving student learning performance. New information technologies and systems are currently being used in classrooms and school administrations across the world. Teachers use computers, tablets, smartphones, and software to support in-class activities and students review lessons on YouTube channels, seek online tutoring, and even use virtual assistants. School administrations use database systems to track student performance and develop plans for improvement. A new wave of artificial intelligence technology is hitting classrooms. Students learn with 3D glasses to understand the structure of the human body and practice surgical operations using augmented reality. Computer simulation replaced physical driving and flight exercises. Automatic chatbots and avatar tutors are replacing human beings. Can we expect AI teachers in our future classrooms? In this presentation, we are going to review current artificial intelligence technology uses in the educational sector. How are artificial intelligence technologies apply? What roles should humans play in the era of artificial intelligence? What makes human teachers unique as educators? With this presentation, the audience will understand the new educational landscape and be prepared for the coming of AI teachers. What does this mean to you?
Concurrent Session III
3A: Can you hear me now? Using captioning tools in mixed-format (Hyflex) college courses to ensure everyone can communicate, whether attending in-person or live-streaming
Background: In recent decades, higher education has made great strides in providing information communication technology and other resources to students with hearing impairments. This has enabled countless students with hearing loss to obtain the full benefit of their educational program. But what happens in a mixed-format course where some students are livestreamed from remote locations, others are physically in the classroom, and everyone present is masked and practicing social distancing due to COVID-19? Hearing each other and the instructor can be a challenge. What if, on top of these circumstances, the instructor is hearing impaired? Without a pro-active and collaborative approach, facilitating this complex learning environment would be difficult, at best. Objectives: In this case study presentation, participants will learn how an instructor, an accessibility expert, and a seasoned instructional designer researched various speech-to-text web applications to bring assistive technology into a highly communicative, engaging classroom. They will actively engage in an open captioned discussion using Microsoft Translator, as they hear how the presenters introduced this tool to live and remote students. By the end of this session, participants should be able to integrate a captioning application into a live course. Class format: In Fall 2020, the instructor taught two eight-week courses via a HyFlex Course Delivery model—with students participating in the course either in-person, livestreaming, or asynchronously. Due to COVID-19 related safety protocols, both courses, which were originally slated to meet in person two days per week, were divided in half and re-scheduled to meet in person only one day, with their non-meeting day consisting of asynchronous online work. Under the new format, students in all four sections were encouraged to attend their scheduled face-to-face sessions if they were able (well, with no known exposure to the virus), but could opt to join the livestreamed session if they wished to attend remotely. A recording of each class session was made available for students who were unable to join via either live method. Classes began on August 20, 2020. The app was implemented beginning Thursday, August 24, 2020. Classroom Technology: The Division of Information Technology installed webcams on tripods in classrooms, connected to a desktop computer and overhead projector. The instructor tested use of the Translator tool on her mobile phone and also on a laptop. Students had the option of using their mobile phone or bringing a personal laptop to classes to access the Translator tool.
Participants are encouraged to bring their mobile devices to access the captioning application and participate in a group conversation.
3B: PAUSE: A Tool for Academic Writing Feedback
Academic instructors are trained as subject matter experts. Those who graduate as subject matter experts may not have taken a course in andragogy, or adult learning theory. Furthermore, if a faculty is not a traditional educator by training, teaching methodology courses may not have been part of the required coursework. Beyond andragogy and learning theory, a subject matter expert may not be in an expert in giving writing feedback in a way that is meant to help the online students regardless of the academic level. There are many ways that online teaching and learning can benefit and strengthen students' writing. Likewise, for faculty, the online space can be a place to try new teaching methodology and to consider practices that may not have been possible in the face-to-face environment. While being invigorated by the process and possibilities, online instructors may find themselves in a place of needing to help students with academic writing skills. This realization challenges any assumptions about what students should know about academic writing before they enroll in an online university. The hidden curriculum (Jerald, 2006) of writing can create a frustrating and deflating experience for students who are less than prepared for the intense and high-level writing requirement. PAUSE creates a framework that will make writing feedback pragmatic for all online subject matter instructors. As stated by Cleary (2011), if universities want to keep and graduate more non-traditional students, a new approach is needed for helping students learn to write successfully. PAUSE is a reminder when providing quality written feedback to help students reach distinguished writing as defined by the subject objectives. This workshop will present ongoing research of an acronym that can be used by subject matter experts to provide writing feedback for students that is positive, at once, understandable, specific, and encouraging. Participants in this workshop will learn the research behind each word and then engage with providing feedback for writing samples, so that they leave with a document of cached feedback to help them get started in their own courses. Cleary, N.V. (2011). How Antonio graduated on out of here: Improving the success of adult students with an individualized writing course. Journal of Basic Writing, 30(1). p. 34-63.
Jerald, C.D. (2006). School Culture: The Hidden Curriculum. Washington, DC: The Center for Comprehensive School Reform and Improvement. Retrieved from www.centerforcsri.org
3C: Blending Innovation & Theory for Student Success in Finance Education
This presentation will review the innovative course design of FIN 673: Applied Portfolio Management, offered in Ashford University's Master of Science in Finance program. The presenter will discuss the unique blend of simulation, role play, and study of theory that students use in this course.
This course deals with the construction and management of individual and institutional portfolios. Throughout the course, the students utilize a trading simulation program to create and monitor investment portfolios. In addition, students work through the theoretical and practical implications of portfolio management theory through discussions, reflection journals, and 'Professional Practice' assignments focused on communicating investments and portfolio theory to clients. The presenter will detail how this course is a unique synthesis of theory and practice that is both challenging and inspiring for students.
3D: Strategies for Managing Organizational Change
Change forces have altered the way we live and work. Change forces such as government, politics, economics, technology, sociocultural, and natural- and human-related forces (Weiss, 2015) are a constant. These change forces have directly or indirectly impacted our world and higher education in many different ways. Covid-19, for example, forced many employees and faculty to work from home and created many challenges in our world. As such, organizations are in a state of constant readiness, are continuously planning, improvising, and implementing their strategies and plans in response to these change forces. They are action learning and dealing with change forces in the present, and they are experiencing endless change continuums. "Change occurs at many levels of the organizations. It occurs at the organizational level, within groups and teams, and at individual levels. Creating successful change is the goal, and organizations work to build on the right leadership, strategies, culture, structure, and systems" (Davis 2014, par. 2). One way to manage change and ensure high-quality performance is to create group structures. For example, group and team structures can lead change initiatives, manage tasks, be responsible for designing products and services, implement change, and nurture and guide others in their transformation. Group structures are a sound strategy for creating positive outcomes and results.
Concurrent Session IV
4A: Inclusive Practices in the Virtual Learning Space
In this session, participants will be guided through a self-reflection on the following questions: How can I digitize inclusive excellence? How can I communicate thoughtfully and inclusively? How can I foster civil discourse in my learning environment?
According to Wasley (2006), the National Council for Accreditation of Teacher Education removed social justice language from its accrediting standards because of its controversial, ambiguous, and ideologically weighted nature. However, this removal does not negate the need for inclusive efforts and language. In fact, the weight of the current pandemic and current social movement magnifies the significance of providing an inclusive virtual learning experience. In this session, presenters will provide research-based strategies and procedures to build an inclusive classroom community in a virtual learning space. Additionally, a multi-modal approach will be used to share information, research and resources to help participants engage in and foster civil discourse.
4C: Increasing awareness of unconscious bias among healthcare students
It is important to consider both the implicit and explicit biases of students in health care programs, since these may affect patient care and interprofessional relationships. Educators can encourage students to be cognizant of their unconscious bias, and one way that this can be accomplished is through implicit bias testing (Teal, Gill, Green, & Crandall, 2012). Prior to beginning this project, one of the authors (CD) required graduate healthcare students to complete an implicit association test (IAT) with a focus on weight bias as part of an online discussion board (Harvard University, 2019). The IAT is a reliable, valid test that can measure unconscious weight bias (Manns-James, 2015). None of these students, all practicing nurses, admitted to any knowledge of biased delivery of care in the clinical setting; based on the IAT results, a rich discussion took place regarding the value of knowing one's implicit bias that might result in unaware behaviors. A significant minority of students became angry and denounced the validity of the IAT and the value of the learning activity. These were students who had predicted they were neutral, but in fact had an IAT score that demonstrated a thin preference. Based on this experience, the instructor recognized that such a learning activity would be of value at an earlier (undergraduate prelicensure) level of nursing education and could be considered an aspect of cultural sensitivity training. In our study, first-semester Bachelor of Science in Nursing (BSN) students were surveyed anonymously mid-semester and at the end of the semester after completing the Harvard Weight Implicit Association Test (Harvard University, 2019). Sixty-nine out of 77 students completed pre- and post-surveys. Weight preference towards others was not shown to be related to the respondent's own self-reported body mass index (BMI). The majority of respondents exhibited more weight-related bias on the IAT than they realized. The
three qualitative themes that emerged included Awareness of Personal Beliefs and Stereotypes, Reminder to be Impartial, and Skepticism about the IAT. The implications for educators include the importance of helping health care students increase their awareness of unconscious bias in order to provide high-quality care to patients. With the availability of psychometric tools to assess implicit attitudes, educators can provide learning activities to objectively measure unconscious bias. These curricular strategies may help reduce the potentially negative impact of unconscious bias on quality of patient care, interprofessional relationships, and clinical professionalism.
4D: Integrating Coaching Principles into the Academic Classroom
Coaching principles in the athletic arena have given us some keys to the environment that needs to be created and integrated into the academic classroom in order for students to learn at the highest level. Experienced "coaches" have learned that successful coaches are also successful teachers. The product of a successful coach is often demonstrated publicly by a "winning team". The pedagogical theories that teachers adhere to are some of the same used by coaches in teaching physical, intellectual, and life skills. Coaches who "win" at high levels have a specific "written" philosophy of coaching. They communicate with a cooperative style and they create a culture within their teams where student athletes feel comfortable to actively participate within the framework of their learning and competitive environment. Great coaches are great motivators and great leaders/managers of people and great teachers. As it is with "student" athletes, students in the classroom do not care as much about what an instructor/coach "knows" as much as they do about how much the instructor/coach "cares". This presentation will demonstrate how to integrate these principles into an academic classroom. The product of a successful instructor is the kind of learning that takes place that is integrated into students' lives personally and professionally. What makes a successful coach involves culture, communication style, motivational techniques, and teaching acumen. This presentation will give real examples of how this can be demonstrated in an online academic classroom.
4E: Online Presence: Key to Student Success
One of the biggest challenges teaching online courses is the absence of non-verbal communication which is a key element in the transmission of information. Instructors who are mindful of this phenomenon and are able to employ routine steps in their online courses will benefit their students. This presentation will provide participants with fundamental strategies on how to effectively engage college students in an online setting.
Concurrent Session V
5A: Impact of Optional Synchronous Discussions on Learning and Engagement in Asynchronous Courses
In this session, the authors will discuss the implementation of a research study regarding optional synchronous discussions in college courses. At Ashford University, all courses are delivered in an asynchronous method regardless of discipline; only minor, previous attempts at implementing real-time, synchronous class meetings have occurred in the past. In this study, students had the option to participate in real-time conversations about class topics using video conferencing software. A total of approximately 180 students were invited to participate with nearly 50% accepting the invitation. Our research questions included (1) To what extent do optional synchronous sessions impact student mastery of learning outcomes compared to participating in asynchronous discussion forums? (2) To what extent do optional synchronous sessions impact student engagement in online courses? (3) To what extent do students want optional synchronous sessions? The research showed that the number of responses per student was significantly higher in the live sessions. Student feedback received on qualitative surveys reveal that students enjoyed the option of being able to attend live sessions. The students felt that their questions were answered quickly, which in turn assisted them in having a better understanding of the course content. The live sessions not only made them excited to learn, but also helped to push and encourage them throughout the course. The students shared that the synchronous sessions allowed for deeper connections between peers and the instructor. They also discussed how the live sessions helped them increase their technology skills, boost their confidence in sharing knowledge, overcome their fear of speaking in front of strangers, and discover new learning styles. During this session, we will examine the research associated with why and how the study was conducted, the analysis of the data, and implications for the future. Ideas for engaging and connecting with students during synchronous sessions will be explored. Examples of how the NACE Competencies, such as critical thinking, oral communication, collaboration, and digital technology were utilized during the synchronous sessions will be included as well.
5B: Evaluating Covid Required Online Programming through Visual Scaling
Colleges and universities had to reactively place a great deal of their educational supports and programs online during the covid sequestration and beyond. Unfortunately, many were not able to proactively establish effective mechanisms to evaluate the impact or effectiveness of these interventions. Because of this lack of planning, many things occurred that were unanticipated. Thus, a great deal of reflective interventions had to be put into place to create temporary measures to get through the semester. Now, with the initial sequestration behind us, and a new semester currently in process, it becomes incumbent upon educators to take time to engage in collegial reflection, and discuss their inferential insights, collected artifacts, and results from any assessments conducted. But how do you make sense of such a "hodge podge" of content? How do you bring the proper people together and support an effective process of interactions between those people? What steps do you have to take to effectively turn your existing data into information and hopefully organizational knowledge? What do you have to encourage people to do to be self-reflective so they can provide insights into their own performances in ways that will support the entire community of scholars? This presentation will describe an evaluative process called Process Improvement Guidelines developed by the presenters, to utilize communities of practice, rubrics, and reflective introspection to incorporate data into effective assessment measures. We will discuss the need for collegial interactions and introspections. We will discuss the need for effective knowledge management strategies to turn your data into information then organizational knowledge. Finally, we will discuss visual scaling, a methodology developed by the presenters that takes qualitative and quantitative data to tune it into actionable content necessary for effective assessment and evaluation.
5C: How to use machine learning to increase student retention in online environments
It is no secret that universities struggle with enhancing student retention in online courses. Many of them have employed numerous retention strategies to combat head-on rising withdrawal rates. Despite the numerous retention strategies aimed at engaging online students, the rising tide of withdrawals persist. It has been determined that the withdrawal rate for online courses is significantly higher than traditional face to face courses. The stark differences between the graduation rates of online students versus traditional students has been dubbed the "distance educational deficit" due to the fact that institutions that specialize in delivering online education experience "less than one-quarter of the graduation rates of conventional institutions." The educational deficit is so significant that it has led some scholars to ask themselves, "are we failing our students?" Thus far, a distance educational deficit has been identified as a major problem in online education. A practical solution to this deficit is to build a profile of online students who would be at risk of failing once they start their online courses by identifying their common characteristics. Once this profile has been built, then universities would focus their student support resources on these online students in a concerted effort to prevent them from failing. There are numerous quantitative methods that can be utilized to identify the common characteristics of online students who would be at risk of failing. The most appropriate quantitative method to analyze large and complicate datasets is machine learning. The machine learning algorithms that are best suited for the task of identifying the common characteristics of online students who would be at risk of failing are Classification and Regression Trees (CART). In this presentation, a CART machine learning algorithm is going to be utilized on a simulated graduate student admission dataset to build a profile of a student who would be at risk of failing their online graduate program. Every single step that is involved in creating a machine learning model is going to be outlined in detail. The purpose of this presentation of machine learning is to prove that machine learning can be easily applied to student datasets by anyone regardless of their programming background. By the end of this presentation, the audience will be able to create a machine learning model that can be used for building an online student at risk profile.
5D: Matéria daHora – Over 60 high school classes in voice technology
The motivation for the project came from the closure of schools, due to Covid-19, when millions of students from public schools were left without classes. The Matéria daHora are more than 60 free lessons, in voice experience, on Amazon Alexa, in the subjects of Portuguese, Literature, Physics, Chemistry, Biology, History, Geography, English and Technology. Today, there are more than 3,700 users, 13,000 downloads, and growing 40% / month!
5E: United through Video: Enhancing Student Experiences
The growth of online learning environments has challenged instructors to continue to meet the needs of a diverse student population. Instructors at all levels have been faced with the challenge of not only moving content online, but also developing connections with students in these new learning environments. Students in these environments struggle with feeling isolated. Videos have been implemented as one way to bridge that gap and open communication among students and between students and the instructor. These videos were created for a variety of purposes and contained a variety of content. In order to determine students' perceptions, feedback and information was gathered from students through a survey given at the end of the course on the use of videos and email responses. Overall, students have responded well to the videos with only positive feedback on the implementation of video strategies. Based on student and instructor perceptions, the implementation of videos created connection and improved satisfaction in the course. In this presentation, presenters will share their strategies, tools, types of videos, and lessons learned from the implementation of asynchronous videos.
Concurrent Session VI
6A: DIY: Applying Cognitive, Social, and Teaching Presence in the Online Classroom to Improve Student Success, Engagement, and Satisfaction
Various research on effective instructive methods in the online classroom exist; however, sparse research pertaining to instructor presence (cognitive, social, and teaching), as it links to effective online teaching, is available. Drop and success rates, as well as faculty and student engagement and satisfaction, are essential elements that must be considered when teaching online. This presentation will improve attendees' knowledge of cognitive, social, and teaching presence and share tools and tips to effectively apply various strategies for success. Participants will be able to use the approaches when designing and teaching courses to improve instructor presence and subsequently, enhance enjoyment for both, students and faculty. Key points of this presentation entail a brief literature review, definitions and examples of cognitive, social, and teaching presence, tools and tips for integration, effectiveness highlights, presenters' experiences with design and teaching aspects, and study participants' experiences, concluding with Q&A. Additional links to valuable resources and access information to the freely available, self-paced modules will be shared with all attendees.
6C: Using a VR headset to create classroom content
If you have an Oculus Go or Oculus Quest (or other VR headset), did you know you can use it as a tool to create instructional content for classes that differs from most classroom content? Even if you've only thought about buying a VR headset, this session will demonstrate the process of capturing video in VR, delivering a VR lecture, and communicating with other people in VR. You don't have to be that technologically savvy to do much of this. Planned demos include the VR interface, recording a tour of a landmark in Wander, a visit to the Anne Frank house, two platforms for VR lectures, and interacting with people in VR.
If you have an Oculus headset, please send a connection request to the presenter ahead of time: drdant is my Oculus ID.
Owning a VR headset is not required to enjoy this session.
6D: The Human Experience in a Digital World: Be Healthier, Happier and an Inspiration to your Students!
We are all living a human experience going about our day. The world is changing and we are becoming increasingly digital and distanced. In this session, you will learn tools, techniques and tips that build good habits and routines for a calm rather than chaotic life, while inspiring and staying connected with others. Your health and well-being play a major role in achieving success in and out of the classroom. We will explore ways that you and your students can be healthier, happier and more successful. Building your CV is more than your credentials. Build your life CV! Embrace the digital human experience, connect with others and reconnect with yourself.